Update: This giveaway is now closed. You can find out who won here.
I have been so excited for this post today and to tell you about my new friend, Janet Lee.
A few weeks ago, I came across a blog called
Living in a Nutshell
. A blog about designing outside of the box when you live in a box. It was right up my alley. After perusing this blog and loving pretty much everything
I saw, I found out that the author of the blog (Janet Lee) had wrote a book with even more cool ideas.
I couldn't wait to get my hands on this book. Then, I thought it would be great if I could get an additional book to give to one of my lovely readers. If you follow my blog, you must be into decorating outside of the box like me. So you guys would love this book too.
On a whim, I decided to email Janet and see if she would be willing to give a book away to one of my readers. I was pleasantly surprised when she emailed me back later that day and agreed to send me her book for myself and for one of you. She had some really nice things to say and I think she is awesome.
Why is Janet awesome, you might ask? Well maybe because she is an Emmy award-winning television show producer. She has worked with Martha Stewart, Oprah, Nate Berkus and Thom Filicia to name a few. She has appeared on CBS's The Early Show and Lifetime Television's Our Home. Her design blog (launched in 2008) was highlighted by The San Francisco Chronicle as one of the top go-to sites for affordable modern design.
In my opinion, I think she is awesome because she has great design style and is very creative. Her book features over 100 DIY projects that anyone can do. Here is a few examples.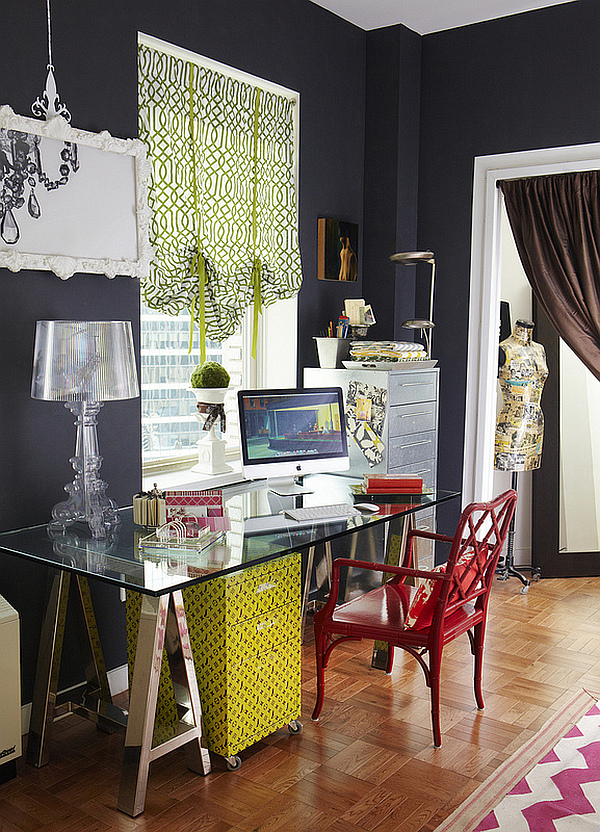 All images by Aimee Herring
Janet has lived in a dozen different pocket-sized apartments over the past 20 years and she has had to come up with innovative, chic and portable designs. There are so many great ideas in the book not only for renters, but for anyone. Projects are ranked as "quickies" (one hour or less), "one-nighters" (two to five hours), or "weekenders" (six-plus hours).
Janet's mantra (and now mine) is to delight, dazzle and divert. First, delight your guests with design details so thoughtful, original even outrageous, they'll hardly notice you live in a box. Next, dazzle them with flattering lighting, luxurious fabrics and accessories that give off a bit of sparkle. Finally, divert any negative attention from the flaws of your space with whimsical decorative finishes.
Maybe I gravitate toward outrageous design elements to distract people from the small crappy old house I live in. I didn't even realize that is what I was doing. But it totally works.
Now, one lucky reader will get their very own copy of Living In a Nutshell (Thank you Janet for being so kind). If you don't win, I highly recommend you buy this book. I am sure you will find plenty to inspire you. I know I did.
Prize: Paperback book, Living in a Nutshell by Janet Lee
To Enter: You must be a follower of my blog (via email, Google Friend Connect, or Blog Lovin and comment on this post (no duplicate comments)
Giveaway Closes: June 12th at midnight
The winner will be chosen using random.org and announced on June 13th. You will have 48 hours to claim your prize or a new winner will be chosen.